My wine is the expression of the soil, of sulfur and chalk, of the sun setting over the vineyard and of harmony. My wine is not just grapes, is territory, traditions and innovation. This is a wine that rises from the earth and enters our blood, is the symbiosis between the man and his environment. It shows to the world the heart of our complicated land, which is stingy sometimes and generous more often. This land must be understood and honor through the grapes which grow among the rock salt, on the hills eroded by the rain and until the valley.
Every single plant has its peculiarities and its history. My wine will tell you about all this and much more. It will tell you about difficult choices, about the people committed to bring out the best, about the frenzy of the harvest and the rest in the cellar, about the first taste.
"Agriculture is the art of knowing how to wait" Riccardo Bacchelli

Being a pure impatient, I had to learn the art of knowing how to wait. Waiting means trying to understand and learn, and that's what
I do as a winemaker, immersing myself completely in the vineyard to grasp its vital essence. In 2013 I started the Viticulture and Oenology Bachelor's degree program in Palermo. This happened because of curiosity, almost by chance and I fell madly in love with it.
The experiences of study and work took me far away from Sicily, but something calls me to my native land. In 2016 I began to feel the need to return with the idea of producing a rebellious wine as a pure expression of myself and of the territory. In order to realize it, I chose an hectare of vineyard in Casteltermini, in the Agrigento province. This parcel is placed between 600 and 550 meters above sea level, overlooking the Platani Valley, in the heart of Sicani Mountains. These plants sink their roots in this poor soil of chalky-calcareous matrix.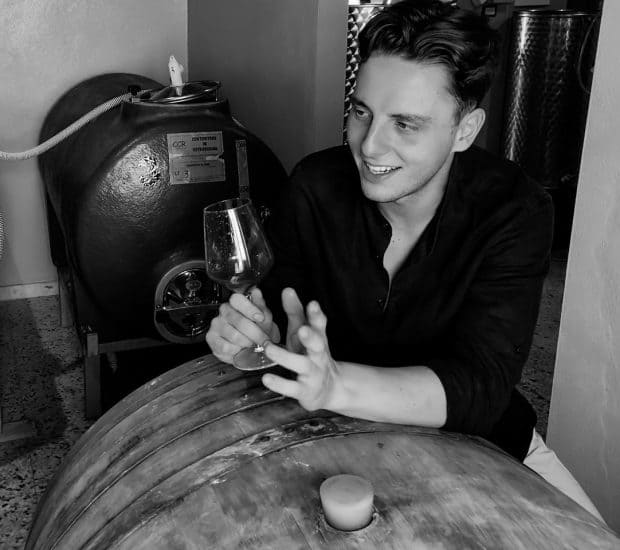 CONTACTS

info@sergiogenuardi.it

sergiogenuardi@gmail.com

+39 340 7033802

P.IVA 03011510843
WHERE WE ARE

Winery

Contrada Serre 92025 Casteltermini (AG) Sicily-Italy

Register office

Via On.Bonfiglio 41B 92025 Casteltermini (AG) Sicily-Italy